Special Monthly Awards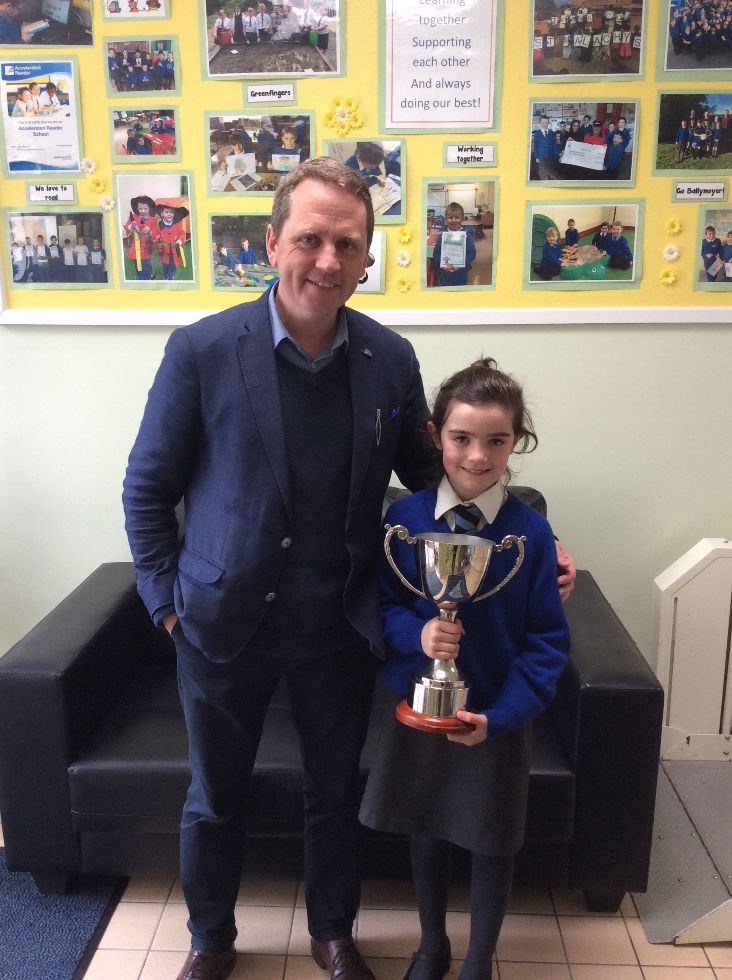 Mr Toner presents the Cup to Orlagh
Mr Toner presenting to Molly (June 2015)
THE FATHER ROGER'S CUP
The Father Roger's Cup is awarded at the end of each month to a pupil who has made an excellent contribution to school life. The cup was instituted by Mr Kennedy in 2014 in memory of Fr Michael Roger's (RIP) who was our Parish Priest. Fr Rogers was from Banbridge, Co Down and served as the parish priest in Loughgilly for a number of years. He was a kind and gentle person who encouraged us to carry our rosary beads with us. We have very fond memories of the school masses he celebrated for us every Thursday morning. Every pupil in our school aspires to win the Fr. Roger's Cup. It is a very special award and a great privlege to become a recipient of it.
THE JOHN JOE MEMORIAL CUP
John Joe Toner was a pupil in St Malachy's Primary School from 2010-2017. He was born with a congenital heart defect but despite having serious health challenges throughout his life, he participated in sports, music and all school activities. He loved farming and football and was a dedicated altar server in St Malachy's Church from Primary 5 to 7. John Joe always gave his best in everything he did. His life was cut short at the age of just eleven years in February 2017, when he suffered a cardiac arrest while singing with the choir in school. Despite surviving for five days on a life support machine in the Royal Victoria Hospital, Belfast, he went home to God on the 14th February 2017.
The John Joe Memorial Cup is awarded each month to a pupil who shows determination, good attitude and an overall sense of endeavour in school. It is a beautiful cup and we know that John Joe would be very proud to see that many of his friends and relatives have won the cup since his passing.
SPIRIT OF ST MALACHY'S AWARD
This trophy is awarded each month to a child who has made a special effort in school, while also displaying kindness and consideration to others while in school. We love to recognise pupils who include others in their games and demonstate selflessness while in school.
HELPERS AWARD
We have many pupils who love to help others while in school. There are various opportunities to do so too eg. opening doors for others, giving out books, litterpicking, tidying desks etc. The younger pupils especially love to help out and this award gives such pupils the recognition that they deserve. It is very important to 'thank you' and 'well done' to pupils when they make a special effort and our Helpers Award is an excellent way to do so!
St Malachy's Primary School
74 Ballymoyer Road, Whitecross, Co Armagh. BT60 2LA
Telephone: 028 37507428 | Email: jtoner775@c2kni.net